Who Are the Major Credit Reporting Agencies?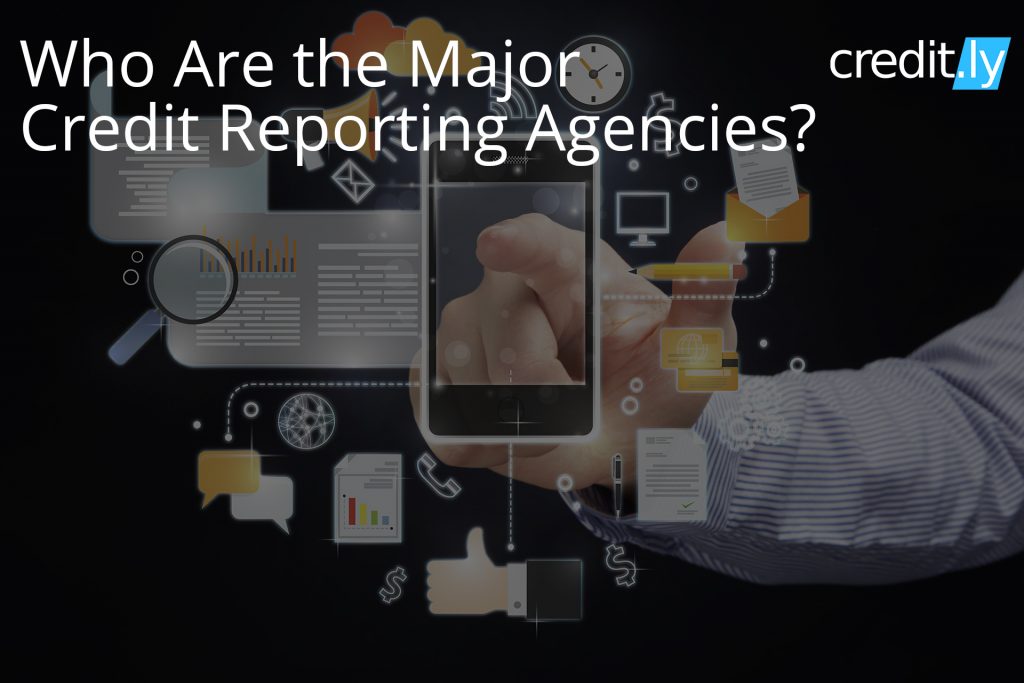 The credit reporting agencies (CRAs), also known as credit bureaus, gather all of your credit information, so it's wise to be well-informed about their function.
Consumer credit history, scores and reports are extremely important, so we want to make sure you have the facts straight.
Lenders go to the three main credit bureaus: Experian, TransUnion and Equifax — when looking to pull and review your credit reports. There are numerous CRAs in the business besides these three credit reporting agencies.
Still, there's a lot of confusion when it comes to what the major credit bureaus actually do. What kind of information do they collect? Where does that information end up? Do they create credit scores or credit reports? And what's the difference? Let's break it down.
What Do the Major Credit Reporting Agencies Do?
The credit reporting agencies compile details about your credit history. So that potential lenders can see what type of risk they'd be taking in giving you a new credit card or loan.
The major credit bureaus are all for-profit companies and are not owned by the government. They have reporting relationships with banks, credit card issuers, lenders and other financial organizations and compile your credit history into credit reports.
To contact any credit bureau directly, on the phone, for example, check their individual websites for more information.
Why Do We Really Have Credit Bureaus?
Credit bureaus are in place to help consumers and business owners alike with the vetting process. Before we had the three credit reporting agencies in place, people would loan money on their own accord. This was done without having the convenience of being able to check the individual's payment history. Loans were given solely based on trustworthiness.
However, cities began to grow, and more and more people began to need credit and loans. This made it more difficult for a lender to know who was going to be able to pay their bills or not. Therefore, enter the three major credit bureaus.
What Kind of Information Do Credit Bureaus Collect?
Credit reports include information about your existing credit accounts. As well your payment history from a variety of financial institutions. They include credit card companies, banks, mortgage companies and other lenders you may have worked with in the past.
Other businesses, like telephone and utility companies, may also report information to the credit reporting agencies. However, non-lending organizations like these tend to only report delinquent payments and other negative information (an account sent to collections, for example).
The major credit reporting agencies collect a lot of information. But there are five key factors listed on your credit reports. These are generally used to determine your creditworthiness when you need a loan or additional line of credit.
These factors are your payment history. Secondly, the types of accounts in your credit file. Third is your amount of debt. Fourth is how long you've had credit. And lastly, the number of hard inquiries that appear on your credit file.
What Is Done With This Information?
Once the major credit reporting agencies have collected all the information. Once they have compiled your credit history, and generated a credit report. They sell that information back to the lenders. So they, in turn, can determine your creditworthiness.
Based on your credit report and credit score, lenders can decide whether or not to lend you money. If they decide you're someone they want to do business with, the information supplied by the credit bureaus will be used to help determine what your interest rate will be.
How Long Do Credit Bureaus Keep My Information?
Personal information — like your name, address, etc. — as well as positive financial information — like a strong payment history — can remain on your credit reports indefinitely.
The credit bureaus compile more troubling information as well to give insight into how risky of a potential borrower you are. Most of these details can remain on your credit reports for seven years, but the timeline can vary depending on the item.
Here's a breakdown of how long the some of the negative information collected by the credit bureaus will likely stay on your credit reports.
Bankruptcy: Ten years from the date of filing for Chapter 7 filings, seven years for Chapter 13 filings and seven years for each record marked as "Included in BK"
Charge-Offs (when a creditor or lender writes off the balance of a delinquent debt, no longer expecting it to be repaid): Seven years
Closed Accounts: Seven years if the account was paid late, no expiration date if the account was always paid on time
Collection Accounts: Seven years from the last late payment on the original account
Inquiries: Two years
Late Payments: Seven years from the date of the late payment
Judgments: Seven years from the filing date if paid; longer if unpaid
Tax Liens: Can remain indefinitely if left unpaid, seven years from the date the lien is paid
Do All Three Credit Bureaus Have the Same Information?
The three main credit bureaus all operate independently of each other, so they don't share information or communicate at all. Thus, your credit file from each bureau may be slightly different.
It's a good idea to review each of your reports from the big three credit bureaus. (Experian, TransUnion and Equifax). So you can verify that everything on each credit report is accurate.
If you find something is inaccurate on any of your reports, you'll want to dispute it, which you can do on your own or get help from a credit repair expert. (This guide can help you learn how to dispute an error on your credit reports.)
It's important to note that if an error appears on multiple reports, you'll need to file a separate dispute with each credit bureau reporting the misinformation. You can file disputes with each of the major credit reporting agencies via their websites or by mail.
How Do You Get a Copy of Your Credit Reports?
Federal law entitles you to one free credit report from each bureau every twelve months. You can request your free annual credit reports from Equifax, Experian and TransUnion at AnnualCreditReport.com. If you need to get an additional credit report during the year, you can purchase one directly from each of the major credit bureaus.
Equifax and Experian have available credit files that include all three main credit reports on a single page.
Also, you can see a free snapshot of your credit report on Credit.ly. By reviewing your report, you'll get insight into how you're doing in the five-credit report focus areas we mentioned earlier. You'll also see two of your credit scores for free.
A personalized step-by-step action plan is also available, so you know where to focus your credit-improving efforts in order to achieve your goals.
Understanding the Difference Between Credit Reports & Credit Scores
Now that you have a bit more insight into what information the credit bureaus collect, and how they use this information. What is the difference is between the credit reports they issue and the credit scores you hear so much about?
Basically, the information in your credit reports is used to generate your three-digit credit score, which is a numerical representation of your creditworthiness.
Because there are three major credit reporting agencies, the information collected by them can vary. Your credit scores may also vary depending on what credit bureau a lender is using to ascertain your credit history.
Beyond that, there are many different credit scoring models or formulas, which change from lender to lender. In fact, you've probably heard of a FICO score before — but you don't have just one FICO score — you have dozens.
Experian Credit Reports
You can find your Experian credit report on annualcreditreport.com and can access it for free once per year. Once you receive the copy of your credit report, check the entire report for accuracy. Also make note of any discrepancies there may be. This is so you can submit a dispute to the reporting agency to potentially have them removed.
To file a dispute with Experian, you can do it online by following their instructions on the site. Or you can also send it the proper documentation and evidence by mail. This is so they can review everything and investigate the dispute.
The Experian credit score is a FICO 8 Score that ranges between 300 and 850. They also have a Credit Tracker, which is a paid service you can subscribe to. With this service, you are entitled to a copy of your Experian credit report along with your FICO score, email alerts for credit monitoring, and fraud resolution support.
TransUnion Credit Reports
Like Experian, you can go to annualcreditreport.com to receive your TransUnion credit report for free once per year. They also allow you to place a TransUnion fraud alert on your credit profile. If you think you've been a victim of fraud, you can contact the credit bureau. Because this will prevent any accounts from being opened or your credit from being checked without your permission. TransUnion will then notify Experian and Equifax of the credit freeze placed on your account.
With a paid subscription, you will be able to take advantage of TransUnion's credit monitoring service. Additionally, you will have the ability to place the credit freeze on your credit file.
TransUnion scores also range from 300 to 850 and have many credit score categories ranging from bad to excellent. A bad TransUnion credit score is 550 and below, while an excellent TransUnion credit score would be 750 and up.
Equifax Credit Reports
Equifax also provides FICO and VantageScores and uses different scoring models to calculate your credit score. Like the others, the credit scores will range between 300 and 850.
Equifax also provides a monthly subscription service that allows for credit monitoring that provides you with your credit scores, credit reports, credit freezes, and other alerts.
The Equifax Data Breach
A total of approximately 148 million Americans were affected by the Equifax data breach in the last year. Millions of people had their personal information accessed by a hacker. The information taken may have included consumer social security numbers, driver's license numbers, and even credit card numbers.
Tips every consumer should be aware of going forward to protect their information
Equifax has a few tips every consumer should be aware of to protect their information. And also help prevent identity theft:
Place a Credit Freeze on Accounts: this type of freeze essentially blocks the majority of lenders from being able to see your credit history. When the lender can't pull your credit history, then they cannot issue a loan. This essentially means there is a much-reduced risk of fraud because they cannot use the information to obtain a loan or set up any fraudulent accounts in your name.
Place a Fraud Alert or Freeze on Accounts: all three credit bureaus offer to place a freeze or fraud alert on accounts to help prevent identity theft and fraud. This freeze or fraud alert happens almost immediately after being placed. When doing a freeze, you need to make sure that all three credit bureaus will lock your accounts. Otherwise, it is less effective.
The difference between a freeze and a fraud alert is that a fraud alert stays on your reports for 90 days. A freeze is indefinite until the consumer requests it is removed. In many states, consumers have to pay a monthly fee to keep the freeze, while a fraud alert is free.
Two-Factor Authentication: this will provide you with yet another safety net to reduce your risk of becoming a victim of identity theft and fraud. While most accounts require a password, two-factor authentication will require one more level of protection. To gain access to accounts such as having a code sent to your email or phone number on file.
Fair Credit Reporting Act
The Fair Credit Reporting Act (FCRA) is Federal Government legislation that was enacted to help promote accuracy, fairness, and privacy of consumer information. All that is found in the reporting agencies files.
One of the biggest concerns under this act is the way the credit reporting agencies are using the information. They are receiving regarding a consumers' credit history. The law is meant to protect the consumer from any misinformation.
It's a good idea to review your credit reports from all three credit reporting agencies. For the finer details influencing your credit scores. As well as to monitor your scores for any sudden changes. These can be a sign of identity theft.
Knowing your credit scores will help provide you with a better idea of what types of terms and conditions you may qualify for. On any lines of credit or loans from financial institutions. Also, understanding the role each reporting agency has will also give you the upper hand when it comes to your rights and the security of your credit accounts with each bureau.