What Is an FHA Loan?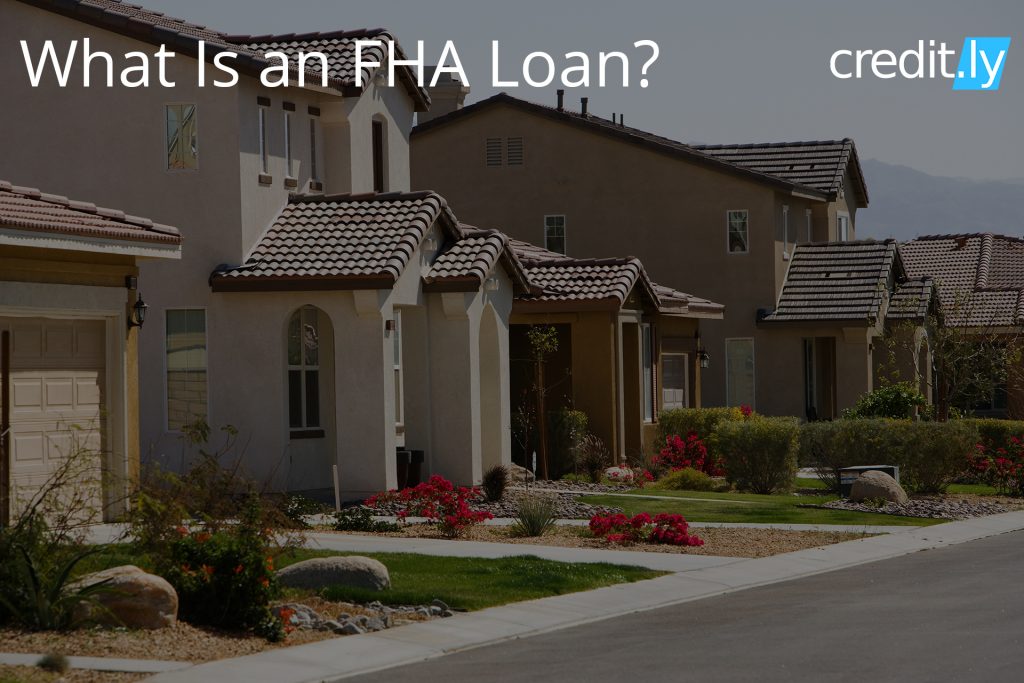 FHA loans are home loans insured by the Federal Housing Administration (FHA), which is a part of the U.S. Department of Housing and Urban Development (HUD). These loans offer prospective homebuyers with lower credit scores and down payments the change to purchase a home.
Borrowers with a credit score as low as 580 stand a chance to get approved for an FHA loan with a down payment as small as 3.5%. That's just $7,000 for a $200,000 home. Unlike other loans, FHA loans don't necessarily require two years of employment to qualify.
If you don't know your credit score, find it for free—along with tips for improving it—right here on Credit.ly.
FHA loans, because they're insured by the FHA, do typically require a mortgage insurance premium (MIP). MIP is similar to the private mortgage insurance (PMI) applied to conventional fixed-interest rate loans where the borrower doesn't have a 20% down payment. MIP is usually paid once upfront or as part of your monthly payment or both.
MIP protects the FHA from the risk associated with lower down payments and loans to those with lower credit scores.
What Are the Differences Between an FHA Loan and Conventional Loan
The most popular—and perhaps most widely known—types of mortgages include conventional home loans, called conventional fixed-rate mortgages, and FHA loans.
Conventional home loans are not insured by a government agency, such as the FHA or the U.S. Department of Veterans Affairs. Conventional loans require credit scores of at least 620. In exchange for higher interest rates, you can put down as little as 3% for a conventional home loan. With a lower down payment, you'll have to pay PMI either upfront or monthly for a conventional home loan. And, a conventional loan has a higher interest rate and requires a lower debt-to-income ratio than an FHA loan.
An FHA loan, on the other hand, is insurance by the FHA. People with credit scores as low as 580 can qualify. Down payments need to be 3.5% or higher. FHA loans require an MIP premium be paid upfront and as part of the monthly payment. Interest rates for FHA loans are lower than with a conventional loan. And borrowers can have higher debt-to-income ratios compared to borrowers using a conventional loan.
Are There FHA Loan Limits?
FHA loans set specific limits on how much you can borrow. Those loan limits vary by state and county. There is also a national loan limit ceiling of $726,525 for FHA loans in 2019. The minimum loan limit or "floor" is $314,827 for 2019.
What Are the Advantages of an FHA Loan?
The lower credit score requirement for FHA loans is just one advantage, especially with the interest rates on FHA loans still competitive.
Beyond that, borrowers can qualify for an FHA loan with:
A debt-to-income ratio of 50% or less
Shorter wait times after negative credit events, such as foreclosure, short sale, bankruptcy and divorce
A down payment as small as 3.5%
Certain fees may be lower on an FHA loan, too, particularly when it comes time to closing since the FHA loan program allows for coverage of some of those costs by the seller or another applicable third party.
Are There Disadvantages of an FHA Loan?
If your down payment is lower than 20%, the disadvantage you'll face with an FHA loan is the MIP. Costs for MIP are typically higher than the private mortgage insurance (PMI) borrowers have to pay on conventional loans—especially when you account for the upfront MIP you'll pay on an FHA loan.
The upfront MIP (UFMIP) fee is 1.75% of the base loan amount, which gets applied regardless of your loan term or LTV ratio. The annual MIP fee, paid in 12 monthly installments, depends on the terms of your loan and your loan-to-value ratio. Annual MIPs range from 0.45% to 1.05% of the amount you're borrowing and your loan term.
MIP is harder to cancel than PMI on a conventional loan. Conventional mortgage lenders let you out of PMI once you pay your mortgage down to 78% of the home's value at the time of purchase. Plus, you can ask your lender to cancel your PMI on a conventional loan early if you've paid your mortgage down to 80% of that original value ahead of schedule.
And, if you put a smaller down payment on an FHA loan, your mortgage payment will be higher than a conventional loan with a higher down payment.
What Documentation Do I Need to Apply for an FHA Loan
When you apply for an FHA loan, plan on providing the lender with:
Driver's license
Your Social Security number and card
Last paycheck
W2s for two years
Valid tax returns for two years
Last three months of bank and other investment and credit card account statements
If your lender needs any other documentation in addition, it can walk you through the requirements to ensure you have everything in order.
Property Requirements for an FHA Loan
In addition to the required documentation, there are also requirements that come along with the property. FHA loans don't apply to second homes and can only be used to purchase a primary residence for the borrower. That means you can't use an FHA loan to buy investment property.
One of the homebuyers must occupy the home within 60 days of closing. And an FHA appraisal and inspection are required to determine the fair market value of the home.
When Should I Consider an FHA Loan?
The FHA loan program is great for borrowers who don't have a lot of cash on hand for a down payment and/or need some flexibility when it comes to underwriting. That's true for first-time home buyers and people buying their second or third homes too. It is also an ideal option for people with lower credit score—lower than the 620 minimum for a conventional loan.
If you do have the resources to make a large down payment and your credit score is in good shape, you may be better off going with a conventional home loan—given that you can skip the PMI. Learn more in Should You Get an FHA or Conventional Loan?
Of course, regardless of type, you only get a mortgage you can repay.