How to Refinance with Bad Credit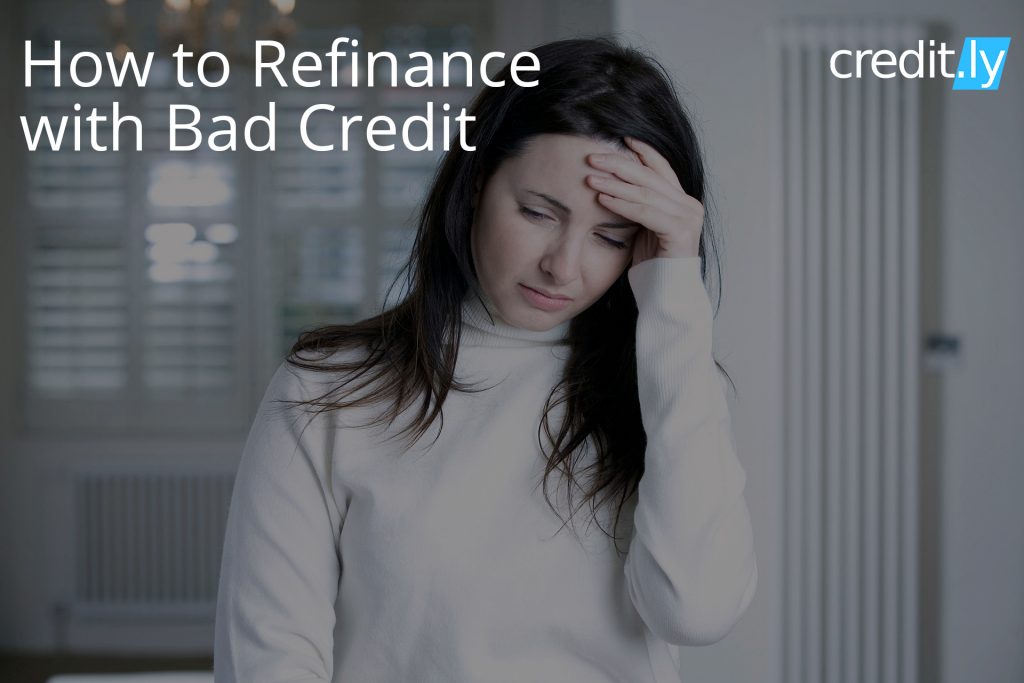 Refinancing a loan involves paying your existing mortgage loan off and replacing it with a different loan. A refinance can net a different interest rate and term. A lower interest rate might lower your payments. A shorter term might let you pay the new loan off faster than the previous one, which means you end up paying less in the long run. Another benefit can be to switch from an adjustable rate mortgage (ARM) to a fixed-rate loan for a lower and/or more predictable interest rate or vice versa.
Qualifying to refinance—just like qualifying for a new mortgage—requires you get approved for the loan. Your creditworthiness affects your chances of approval and the interest rate you can qualify for. The better your credit, the better your chances of approval and of getting a good interest rate.
Qualifying to refinance with bad credit though, just like qualifying for a new mortgage with bad credit, isn't impossible. There are available options even with their less-than-perfect credit.
What Are My Options to Refinance with Bad Credit?
The cut-off to qualify for a conventional fixed-rate home loan is roughly a 620 credit score. The cut-off for a Federal Housing Administration (FHA)-backed mortgage is as low as 580. The cut-off for refinancing is about 620—really considered a poor score and not bad, which is 600 or less. For a refinance additional factors to your credit score play into whether or not you may get approved. Some of these factors also affect a new mortgage, but others only apply or hold more weight in a refinance. These factors include:
The equity you have in your home
Your debt-to-income ratio or DTI
Your loan-to-value ratio or LTV—this is your mortgage divided by your home's value after you refinance
How much cash you have in the bank, such as in a savings account
The type of mortgage you already have—conventional, FHA, VA, ARM or USDA
The magic as to whether you can qualify to refinance is in the mix of these factors as follows.
| | | | | |
| --- | --- | --- | --- | --- |
| Minimum Credit Score | Equity | DTI | LTV | Cash in Hand |
| 700 | Less than 25% | 36%–45% | 97% maximum* | n/a |
| 680 | Less than 25% | Less than 36% | 97% maximum* | n/a |
| 640 | More than 25% | 36%–45% | 97% maximum* | 2–6 months |
| 620 | More than 25% | Less than 36% | 97% maximum* | 2–6 months |
When you LTV is greater than 80%, you'll have to pay private mortgage insurance (PMI) too. An FHA Simple Refinance allows an LTV of up to 97.75%.
When you refinance your home with poor or bad credit, you're not going to qualify for the best terms and conditions. So, if you're looking to refinance to get a lower interest rate and your credit is poor, want to calculate if a particular offer will put you in a better position than you're in now—particularly if you're looking into traditional refis.
Here are a few of the major options available for people with poor and bad credit who want to refinance a home loan.
Refinance an FHA Loan
If you have an existing FHA loan, you have a few different options to refinance.
The advantages of refinancing an FHA loan through an FHA program include more lenient qualifying guidelines than other mortgage refinance programs.
With any FHA refinance option, you'll want to have made your payments on time and in full for at least the last 12 months.
FHA Streamline Refinance
If you have an FHA loan and you made your payments on time for the last year, you may be able to refinance your loan to a lower rate—and lower monthly payments—with the FHA Streamline Refinance program. The program:
Doesn't have to verify your income or check your credit
Requires less paperwork than some refinances
Has simple eligibility requirements
Doesn't look at your DTI if you are in good standing with your current FHA loan
May not require an appraisal
Is limited to an amount no greater than your current loan's original amount without an appraisal
Has no closing costs
This program is a good option if the value of your home is about the same as it was when you first bought it or you plan to move soon and don't want to pay closing costs on a refi.
FHA Simple Refinance
The FHA Simple Refinance lets you refinance your existing FHA loan into a new ARM or fixed-rate loan.  This option does require income verification, a credit check and a home appraisal. It's a good option if you have some equity built up in your home, want to refi affordably and you want to pay a lower interest rate. This option is particularly valuable if you want to refi into a fixed-rate loan.
FHA Cash-Out Refinance
The FHA Cash-Out Refinance program is available to people with credit scores as low as 580. Some lenders may want a score of 600 or higher though. This program has a maximum LTV of 85%, so you won't be able to qualify if you still own a lot on the home. You'll need at least 15% equity.
The FHA Cash-Out Refinance program is the only program of the three included here that lets you get cash of more than $500 on top of your refinance.
To learn more about refinancing an FHA loan, you can contact any mortgage professional that offers these kinds of loans.
VA and USDA Refinance Options
Both the VA and USDA offer refinance options for existing VA and USDA loans.
The VA offers two refinance programs. The Interest Rate Reduction Refinance Loan (IRRRL) program is available to vets that already have VA-backed home loans and is ideal for lowering your interest res. The VA Cash-Out Refinance program can be used with either a VA or conventional loan to use the home's equity as collateral on a new loan to get cash in hand.
To qualify for either VA refinance option, you need to have served on active military duty or have a credit score of 620 or higher.
The USDA offers its own USDA Streamline-Assist Refinance and USDA Streamline Refinance programs.
USDA Streamline-Assist Refinance program is most similar to the FHA Streamline Refinance program. This program:
Does not require a new appraisal
It Doesn't require a credit check
Doesn't calculate your debt-to-income ratio
Is available if you have little or no equity in your home
The USDA Streamline Refinance and Non-Streamline Refinance programs are similar to the FHA Streamline Refinance and VA IRRRL programs. To qualify, you have to be current on your USDA loan for the last six months, borrow no more than the original loan value and meet the USDA's loan income and credit eligibility requirements. The Non-Streamline Refinance program requires an appraisal, the Streamline Refinance doesn't.
Other Options to Refinance with Poor or Bad Credit
If you have a poor or bad credit score, you won't get a traditional lender's best terms and you may not even qualify. To qualify, you'll have to meet the lender's loan-to-value requirements even. Your home equity will likely need to be at least 20% equity. And your credit score will need to be no lower than 620.
If you have a lower score, consider shopping around. Just be sure to vet any lender and its refinancing requirements carefully before filling out any applications—you don't want to risk putting a hard inquiry on your credit that will further ding your credit score. Also consider:
Working with your current mortgage company. Since you're a current customer, it may be more willing to work with you. And it may have its own version of streamlined refinancing or be willing to work with you on a different term or rate.
Approaching a credit union. Credit unions are sometimes more willing to help those with poor credit in order to secure a good relationship. If you're not already a member, consider becoming a member before investigating a refi with the credit union.
Improving your credit score before you apply to refinance. Learn more below.
What to Do Before You Refinance Your Mortgage
There are a few things you should consider before you refinance your mortgage. If you have bad credit or a less than perfect credit score, it's in your best interest to improve your credit before refinancing.
To start, get your free Experian credit score on Credit.ly. With your free score, you also get a free credit report card. Your report card shows you where you stand in each of the five areas that factor into your score along with ways to improve each area.
The best things you can do in addition to checking your score and getting your free report care are to:
Check your payment history
Make 12 consecutive months of on-time payments for all your bills, including your utilities and phone bill.
Check your credit reports at annualcreditreport.com if you haven't done so in the last year and dispute any errors on your reports—this can boost your credit score, which will get you lower rates when you do refinance.
Don't Forget Closing Costs
When you find a new refinance loan, consider that even if it offers a lower monthly mortgage payment, refinancing usually requires that you pay closing costs. Make sure you account for those costs and any repayment terms associated with your new home loan before signing on the dotted line.