Top 5 Worst Car Buying Mistakes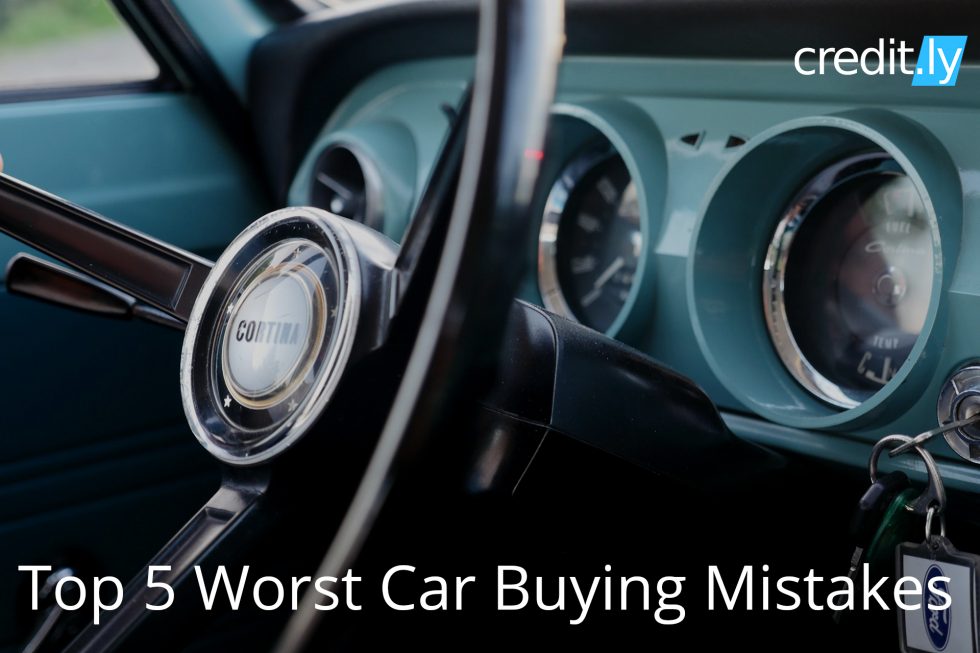 Top 5 Worst Car Buying Mistakes. Having a car is a necessity in this day and age. Next to buying a home, buying a car is one of the biggest financial decisions you'll make in your life, and you'll likely do it more than once. And when it comes down to how to buy a car, making a monthly car payment, or even asking yourself "How am I going to pay my car loan?"  there are so many options — new vs. used vs. certified pre-owned, dealership vs. independent seller, base model vs. higher-end options — it's no wonder the world of cards and credit can be mind-boggling.
It can be tricky dealing with the auto salesman, lenders and fees. When buying a car, financial options can get confusing. Luckily, the experts at Credit.ly have some car buying tips to help you navigate your way around picking the right car, getting the best loan you can and negotiating your way to some savings. From dealer scams to credit traps, these five car buying mistakes could cost you thousands.
Car Buying Mistake #1 – Starting to Shop Before You Know How Your Credit Stands
Buying a car is often an impulse purchase. One of the biggest car buying mistakes you can make before you even step foot on a lot is not checking your credit. Your credit scores will impact whether you can get approved for a car loan at all and the rates and terms banks, credit unions and dealership financing units will be able to offer you.
To be sure that you are getting the best rate on your car purchase, take a look at your credit scores (you can see two of your credit scores for free on Credit.ly) before you start shopping.
If you have some time before you need to pull the trigger and buy a car, you can do a little work to fix your credit, getting you a better rate on the loan.
If you have no credit, getting a car loan is a bit trickier, but not impossible. Car loan rates are very low right now, with many dealerships running 0% offers on new models. And car loans generally have looser credit standards than credit cards because the dealer or bank knows they can always repossess the car to get their money back if you stop paying them.
This means that people with no credit can still get a car, but they'll be paying a higher interest rate. They may be required to put up a larger down payment. And they may also need a cosigner with decent credit to secure financing.
Car Buying Mistake #2 – Not Researching Online and Comparing All Your Options
Thanks to the internet, car buyers have a ton of information available to them these days. Websites like Kelley Blue Book, Cars.com and Edmunds all offer free information about car models, features, prices and you can even find owner ratings, car suggestions and reviews. Before you take your first test drive, you should compare cars in your price range, decide which car is right for you, and what price is fair to pay.
Once you have selected a car to purchase, be sure to get the VIN number and look up the vehicle's history report online. It is important to check a car's history even if it's new. A lot can happen to a new car on the way from the factory. There have been cases of unscrupulous dealers trying to pass off vandalized or damaged cars as brand new.
Plus, brand new cars damaged in floods or hurricanes often end up on the market. Avoid bad deals and lemons by doing your research online.
Car Buying Mistake #3 – Thinking in Monthly Payments Instead of Price
A standard car dealer trick is to talk to you about a car's cost in terms of what you are willing to pay each month instead of the actual price. This can be confusing and is often misleading because the salesperson will use the longest auto loan term available (72+ months) to calculate your possible rates. That extended loan term may seem affordable and budget-friendly when you look at just the monthly payment. But taking on a longer loan term means you're upside down on the loan for longer. This limits your options for trading it in.
A $25,000 car with a five-year loan has the same monthly payment as a $16,000 car with a three-year loan. The difference? You'll end up paying $2,500 more in interest for the more expensive car.
Go into the dealership knowing the total amount you can spend and stay below that number. (Getting pre-approved for a car loan in advance will help you stay within your budget as well.)
Car Buying Mistake #4 – Buying Options – Add-Ons From the Dealer 
Add-ons are optional features that a dealer adds to a car. Common add-ons include undercoating, CD Stereo, alarm system, window tinting, chrome wheels, pin-striping and leather seats. These features are often overpriced and used as a way to boost the sale price of the car. Plus, it's been shown that add-ons rarely add long-term value to your car.
In some situations, such as an upgrade to a premium model, these add-ons can actually harm the resale value of a car. If you do decide that you need an add-on, check first with outside companies that may offer the service for less.
Car Buying Mistake #5 – Not Shopping Around for Car Financing In Advance
If you don't know how car financing works, you may think your only option is getting a loan at the dealership. Dealership financing offices usually offer auto loan rates that are several points higher than what you could receive from an online auto lender, bank or credit union. These rates are largely based on your credit score, as well.
As part of the car buying process, you should shop and compare auto loan rates from various sources. Reducing your loan from an 8% interest rate to 4% could save you a bundle on the car of your dreams.
What about getting a personal loan to finance your vehicle? In many cases, the interest rate you can get on an auto loan will be lower than what you can get on a personal loan. That's because the auto loan is a secured loan (the vehicle is collateral) whereas the personal loan is unsecured.
However, dealership financing can be the best deal in some specific situations. For example, if you qualify for a special 0% offer, or if you have bad credit and can't get a loan from an outside lender, dealership financing may be your best choice.
Get pre-approved for an auto loan before you start shopping for a vehicle. That way you'll know the interest rate and amount you are qualified to buy. Plus, it gives you additional negotiating leverage because you've already lined up financing.
A Few More Tips to Consider 
Just in case the above tips weren't enough to get you to stop and do your homework before purchasing a car, we thought we would throw a few more into the mix as leverage.
Appraising Your Trade In – Don't Undervalue Your Current Car
If you have a trade in that you will be using, then it is always a good idea to look up the value of your trade in yourself instead of relying solely on what the dealership is telling you. Print out the value you found yourself and take it with you to the dealership so when they low ball you, you can furnish a value that is higher.
If they don't respond favorably, you may find better success selling the car as a private sale rather than using it as a trade in for your new car.
Call Your Insurance Company Before You Leave the Car Lot
Certain vehicles may carry a higher insurance premium, and this is not something we always consider when we are in the throes of the car buying process. Make a quick call to your insurance company prior to the sale to discuss any rate changes you may have so there are no extra surprises that pop up a little too late.
Find a Trusted and Reputable Dealer and Avoid the Headaches 
If you have a weird feeling about the salesperson or the dealership you are using, then maybe you should turn around and conduct a bit more research before settling. Purchasing a car is a sizable business deal and investment and is completely worthy of a little extra time and patience.
A trusted and reputable dealer will be open and honest throughout the entire car buying process and will not try to shield you from valuable information you need but they don't want to share. Bottom line? If you are uncomfortable, then do a little digging.
Need help in cleaning up your credit, check out Creditly's partner page. Learn everything you need to know about credit on the Free Credit Resource Page.